Team Brisk Streamer Of The Week: Steve Disco Newsome
This week we are heading to Hull, UK for a snapshot of the one, the only, Steve Disco Newsome!
Where are you from and where are you living now?
I originally dropped from the gusset of my Mother many moons ago. I was raised in the North of England, but soon realised I'd had enough of the place and moved somewhere even more shit, HULL. (For those of you not from the UK, look at your hand and imagine its the UK. Well, I'm where your first finger meets your thumb (If you were looking at your right hand). If you weren't looking at your right hand, then you should have been cos I have no idea where I live on your left hand. NEXT QUESTION!
How did you come up with your DJ name?
I used to live with a guy called Matty Henshaw. Matty liked Disco so I started calling him 'Disco Matt'. In return he thought it was funny to call me 'Disco Steve'. Unfortunately mine stuck and since that day I've been Steve "Disco" Newsome. Originally it was just 'Disco' but it didn't work on flyers, so the longer version was born.
What's your equipment list?

I run two different set ups. I travel with a Pioneer DJ SX3 controller. I love this because its easy for shifting between venues (not all venues in the UK supply equipment).

As for my home studio, I run a Serato S11 mixer alongside 2 x Technics 1210s including DVS. I use the old school Shure SM58 microphone in both situations. I run my music from a MacBook pro. I've tried rocking up to gigs with USB sticks but have had a shit success rate and there's nowt worse than that things not working on the night!
Where did your musical journey begin?
Back in the 1980s and late 1970s. I started at an early age, like many DJs of my age (get fucked Brisk I know you'll have something funny to say about my age!), mixing tapes together and figuring out how to make cassettes for people without the ability of turntables. My first paid gig happened when I was about 15 and I played the local community centre, my wage was just £2 (true story). They got pissed off with me though because I used to turn up with a guest list, hahahaha WHAT? The kids disco soon turned into an adult get together and they didn't know what hit them. I stayed for about a year and then found nightclubs. Luckily my uncle was a doorman at the local club so I could get in. Looking back I must have looked mental Dan in a nightclub at 15 but it was the 1980s and no one really cared.
What made you decide to take up DJing?

The idea of massive orgies, swimming in piles of cash like Scrooge McDuck and all the Pot Noodle you can eat. Only joking, it's good for morale! The truth is I didn't decide to become a DJ, I was already one. I decided to go professional when I realised I could make a career out of it in 1996. I won a DJ comp that I wasn't officially taking part in. I was warming the room up for the competitors.
What are some of your interests/hobbies/passions outside of streaming/DJing?

Underground fight club marbles. It's awesome. You play marbles and if you lose, you wrestle your opponent to the ground, belt him and grab your marbles back. First rule of underground marble fight club is no bongies or skatz. Erm but seriously, I have no spare time to have fun. DJing is what I do. It's work, but it's also my hobby.
When did you start streaming on Twitch?

A couple of years ago now. In the first week of Covid 19 lockdown in the UK, I started streaming on Facebook every day, but was getting shut down faster than Boris Johnson after party due to their music algorithm. Eventually Facebook banned me for 6months. I shoved my finger up at the platform and jumped to Twitch. My first ever stream was my playing Gears of War, badly. I did some followers though and my brain went DING! (This was either a good idea or I'd stood to close to the microwave door as it opened.) Either way, I jumped on Twitch and the rest is history.
Is there anything you really hope to accomplish in your life, whether it be related to music or not?

Nah not really, I'm happy as I am. If good things happen (which they do as we both know) then so be it. I grind daily at everything I do (well except grinding because no one is ready for this jelly) and sometimes things stick and go on to be a success and the things that don't, get dropped. When you get to my age you're happy your eyes opened in the morning. Grumpy fucker aren't I, hahaha 🙂
Who are some of your favourite streamers? Why?

Does this mean I have to say you? FFS BRISK…. (Ok let go of my arm I'll say it…. Put the pen down and what's with the Jack Russel and ziplock bag…. I'LL SAY IT!)
Of course you're one of my favourites. I can't mention everyone though because I'd be here all day. I will tell you though, who my absolute favourite to watch is……………. Paul? Where you go Paul? What's that buzzing? PAAAAAAAUUUUUUUUUUUUUUUUUUUUL!
What is your favourite genre to play? Why?

I can't narrow it down to one genre and there are too many styles these days. I love stuff that has a jack to it. A nice crispy jack. Mmmmmmmmm crisps…… what was the question again?
What are some of the most memorable events you've participated in or streamed?

Hands down the times I played on Sunday Mass for David Morales, but on a self stream accomplishment level, It's gotta be the charity stream I did for Alzheimers. IRL wise, there's a ton, but warming up for Sandy Rivera was very memorable. I also warmed up for the Cheeky Girls (also memorable). CHEEKY, CHEEKY!
What does Team Brisk mean to you?

Team Brisk was my first step into a team on Twitch, so it means the world to me. It was my first "LOOK WHAT I DID MUM!" Moments on the platform. Unfortunately it means I now have you (Brisk) as a mate, but it's a small price to pay to be in such an awesome team.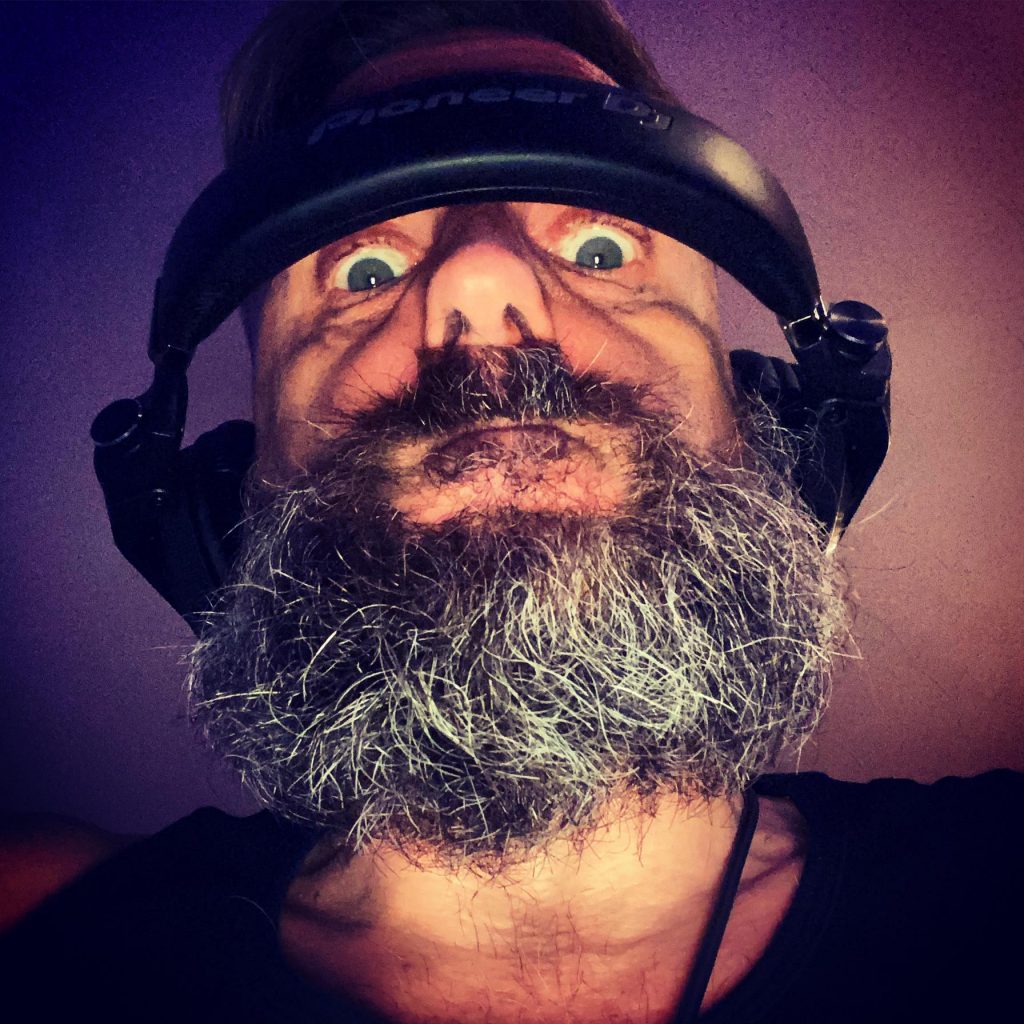 What's your favourite thing about DJing on Twitch?

FREEDOM! Twitch has allowed me to be the DJ (and comedian) I think I am. If IRL was like twitch it would be sick! Twitch folk understand. I love the community on Twitch.
What is a challenge you've faced as a DJ/streamer?

Challenging? Hmmmmmm, I don't think I ever found anything challenging. This might be a pain in the F A*** but not challenging. If you want an answer though. Building Twitch was a challenge in the beginning and the grind is still challenging. Getting to the bathroom without trapping my nuts in the carpet grips is challenging, but Dj wise I'll have to think about that one.
Do you have any special projects, streams or events you would like to tell us about?

Not really, I'm constantly doing stuff but I'd be here all day. I'm thinking about doing a charity stream when I hit 10k followers on Twitch. Maybe a 10k run and a 10 hour stream for the local hospital I raised money for before, but I've not put the wheels in motion yet. There's a rumour on the underground marble fight club vine that I'm getting interviewed by Lenny Fontana on True House Heroes and I can confirm this it the truth but not set a date yet. Follow Lenny to find out Twitch.tv/lennyfontanaofficial
Is there anyone you'd like to shout out and/or thank?

My mum because without her, none of this would be possible. And you (Brisk), of course for this glorious interview xxx
Give us your links!
21 August 2022 BriskAdmin All News News