Team Brisk Streamer Of The Week: Jimni Cricket
We are heading to Seattle, US this week for our featured Team Brisk member as we drop in to see Jimni Cricket for a catch up!
Where are you from and where are you living now?

I am from Seattle Washington, USA.
How did you come up with your DJ name?

I was given the rave name Cricket due to lecturing a raver about drug safety a Jiminy Cricket joke was made and it stuck.
What's your equipment list?

2 x XDJ-700 digital decks
2 x Technic 1200 vinyl turntables
1 x Pioneer DJM800 mixer
Sony Alpha A6000 camera
Where did your musical journey begin?

My brother used to play Drum & Bass in the late 1990s under the DJ Nam era. So for Dance music my first exposure was him giving me mixed tapes and I still remember for Christmas in 1997 he gifted me New Forms by Roni Size & Reprazent and I started to become pretty interested in Rave music and Drum & Bass.
What made you decide to take up DJing?
My room mates came home with vinyl turntables but would not allow me to try out mixing records unless I purchased my own records. I really wanted to try my hand at mixing and so I began buying records and the rest is history!
What are some of your interests/hobbies/passions outside of streaming/DJing?
I am very interested in art, sewing and also collect EGL and Japanese fashion
When did you start streaming on Twitch?

Seven years ago I was still working with Happyhardcore.com and they would multicast my streams to various locations, Twitch being one of them. So whilst having a Twitch presence I did not stream on the platform until the pandemic.
Is there anything you really hope to accomplish in your life, whether it be related to music or not?

I just want to continue to enjoy every day and make fun things I am proud of. Being a creative makes me very happy!
Who are some of your favourite streamers?
Grym aka 'Death Himself' for doing a show with a pretty amazing ongoing and continuing storyline. His production and ideas are great with ever evolving costumes and scene changes.
Four Color Zack – The technical aspects of his show and his personality are just 10/10, plus he is an award winning deejay with one of the highest technical levels on twitch. He is putting constant upkeep into his stream.
I love DJ Spree and Inside The Robot. Spree plays Happy Hardcore with a green screen, while the lovely Inside The Robot paints a fun land scape around in VR with chat requests.
I also love Amber D, Kazar, Nutty, Char, Kutski, d_e_c_i_p_h_e_r, SpinScott, El Hornet. "KJ" Sawka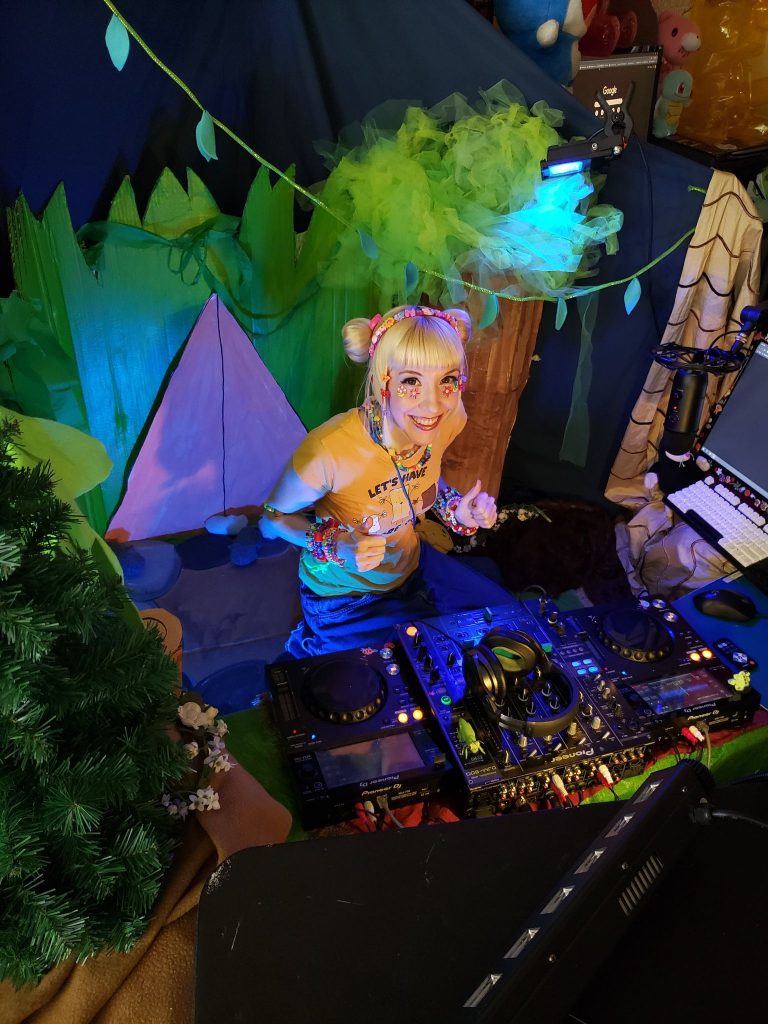 What is your favourite genre to play? Why?

Happy hardcore because it is the best! I also enjoy programming 'mashup' sets with Pop music but it is
very time consuming and not so practical for Twitch.
What are some of the most memorable events you've participated in or streamed?

I like all my 'Hardcore Hodgepodge' adventure shows equally. These are themed shows that my fans and followers get to vote for each week and pick the storyline.
What does Team Brisk mean to you?

I like seeing how each streamer has unique skills. It is nice to have some help with networking and people helping each other. Having Brisk keep an eagle eye out for the fun new people joining twitch is really helpful.
What's your favourite thing about DJing on Twitch?

I like that I can incorporate a theatrical element and also use my traditional art skills and story telling. It is
a pretty open opportunity to have a tv show without any rules or the need for funding. This pushes me to create or find tech every week. Also because the chat picks the theme I am learning about new
fandoms, which is really fun.
What is a challenge you've faced as a DJ/streamer?

Ignoring what is good for my stats and ability to make partner to follow my artistic vision. Spending 5-10 hours in preparation for each adventure show and still having people complain can be frustrating. I also receive comments about being female and my gender being an advantage in helping to achieve bigger viewers on Twitch, which is obnoxious. I work as hard as anyone to achieve my goals and my gender is irrelevant. 💀
Do you have any special projects, streams or events you would like to tell us about?

Every Tuesday I run 'Hardcore Hodgepodge', which is an interactive adventure stream where the chat picks a theme. I build a physical set out of trash and play a DJ set of music while we play some kind of game I make up. It's always a lot of fun!
Is there anyone you'd like to shout out and/or thank?

My mods, Luna (always and forever), Brady, Digi and also Amber D, Kazar, J Note, Ian K, Faith In The Glitch, Kid Daboom, SK and everyone on Team Brisk (of course!).


Give us your links!
Everything is right here: https://linktr.ee/jimnicricket
30 September 2022 BriskAdmin All News News