Sinful Sauces confirmed in 2 of the UKs best chilli festivals!
Sinful Sauces confirmed in 2 of the UKs best chilli festivals!
Sinful Sauces at the 2011 West Dean Chilli Fiesta.
Sinful Sauces have been accepted in to the UK's largest and most respected chilli festival, the 2011 West Dean Chilli Fiesta. We're very proud to be chosen to be a part of this event in our first year of trading. The event will be held on the first weekend in August at the beautiful West Dean Gardens. Please read on for full details.
is an essential date for your diary this summer. 2010 was the hottest year yet with over 19,000 visitors over the three days. Now, anticipation is building for this year's red hot event which looks set to raise the roof!
In 2011 the fiery Chilli Fiesta at West Dean Gardens, near Chichester in West Sussex, will take place on Friday 5, Saturday 6 and Sunday 7 August. Opening hours: 10.30 – 5pm (last entry 4.30pm). For three days, West Dean Gardens are given over to chilli madness, from flaming food, live music and salsa dancing to Hot! Hot! Hot! chillies– there's something for everyone!
Admire the vast array of over 200 peppers grown in pots in the magnificently restored Victorian Glasshouses and displayed in pristine rows in every shape and size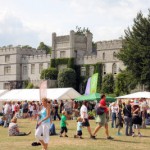 ranging from serene green through to red hot. There will be plenty of opportunities to tantalise your taste-buds, with over
150 stallholders selling chilli related items including plants, seeds, sauces and prepared meals as well as beer, chocolate, ice cream, clothing and jewellery.
Discounts and fast-track tickets are available to purchase in advance at:
Full adult prices below (concessions and family tickets available)
Tickets: On-Line On the Door
Friday 5 August £8.00 £8.50
Saturday 6 August £8.50 £10.00
Sunday 7 August £8.50 £10.00
3-day pass (Friday, Saturday and Sunday) £17.00 N/A
Please note, only assistance dogs are allowed into events. Entry to the event also allows full access to the Gardens, Parkland and Arboretum.
---
Sinful Sauces at Benington Lorship Chilli Festival!
Sinful Sauces have just been accepted to the Benington Lordship Chilli Festival this year on the 28th & 29th August. We visited the festival last year as punters and loved it, so we're very excited to be coming back this year as stallholders. We'd love to see you guys there!
Started in 2006 the Chilli Festival is a very popular family event attracting thousands of visitors over two days, offering a chance to buy Chilli plants, products and sample foods from around the world. Stalls are set up in the sheltered courtyard and Rose Garden where many different dishes are cooked fresh. A wide range of refreshments is provided to help you cool down, including cold beers and ice creams.
The garden is open as normal so after sampling the produce visitors can relax in the grounds. To see photos from the 2009 festival click here
Recent changes to parking arrangements, please see This page
Opening times 2011: 28th & 29th August, 10am – 5pm.
Prices: Adults £5. Children: Under 16's
£2.50 Children: Under 12's Free.
Chilli products.
Chilli plants.
Delicious cooking.
Speciality beers & refreshments.
Free parking.
Sorry no dogs.
We really hope you can make it to one or even both of these events. See you there!
Paul & Kelly xx
"So good, it's Sinful!"
http://www.sinfulsauces.co.uk
http://www.twitter.com/sinfulsauces
http://www.faceboolk.com/sinfulsauces
22 February 2013 BriskAdmin News