Next Generation Records Podcast 26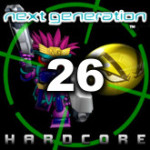 Brisk & Fracus, CLSM, Kevin Energy
Published on: Jun 30, 2011
Back from their international travels and shenanigans are Brisk & Fracus, who bring you the 26th edition of the Next Generation Records Podcast.
With tour tales a plenty, bum gags and the usual juvenile commentary, you know just what to expect! Jon Doe from CLSM delivers a smoking' hot Breakbeat fuelled guest mix to tantalise your testes while Kevin Energy gives us an insight into his solo artist album as he bids farewell to the Hardcore scene.
With a huge musical spread on offer, plenty of mirth and LOTS of sarcasm, your life simply isn't worth continuing unless you download this at your earliest convenience. Do it now. Do it NOW!
Brisk & Fracus:
01. Gavin G – Sky (HU Breaks)
02. Darwin – Rushing In Ya Mind (HU Breaks)
03. Entity – Higher Functions (DJ Shimamura Remix) (ReBuild Music)
04. Flyin' & Sparky – Energy Rush (JBC Remix) (Beetfeet)
05. Luna C – I Gave You (Kniteforce)
06. Michael Mansion – Ordinary Ways (Fracus & Darwin Remix) (Rush Delivery)
07. Sam B – Got It Good (CDR)
08. Steven Davidson – Broken (CDR)
09. Bishop & Tom Revolution – The New Style (CDR)
10. Brisk & Darwin – Break The Concrete (Next Generation)
11. Paul Elstak – I'm Not An Addict (DJ Brisk Remix)
12. Endymion & The Viper – Smash
13. Art Of Fighters – God's Fury
14. Endymion Feat. Lilley Julian – Overcome
15. Endymion & Nosferatu – Drunk With A Gun (Evil Activities Remix)
16. Headbanger Vs. Na Goyah – G.O.D.
www.djbrisk.co.uk
www.djfracus.co.uk
Jon Doe (CLSM):

01. CLSM-I Will Wait
02. Amber D- Rush On Me (Hi-State Remix) (Tidy Trax)
03. CLSM feat Dionne- Music Is Changing (303)
04. Matt Lastname- Holograph
05. Chris Ross and Audioshift- You're Driving Me Crazy- NSR
06. Dj- Ned- Diving
07. Sam B- Burning Up
08. Sparky feat Nicola Robbins- Fill The Emptiness
09. CLSM feat Noodlez- Fat Controller
10. Dean Anthony feat Katies Ambition- Set Me Free
Kevin Energy:

01. Hardcore Fever 2011 – Kevin Energy – My Rave Album
02. Contagious – Kevin Energy and Arkitech (Our first colab) – My Rave Album
03. Beaker Face – FireFarm vs Kevin Energy – My Rave
04. Looking For Bass – Kevin Energy – My Rave
05. PVC (Lost Soul Remix) Eryk Orpheus – Nu Energy 100
06. Hustler 2011 – Kevin Energy – Nu Energy 100
07. Dance With The Devil – Kevin Energy feat Sharkey – My Rave
www.kevinenergy.com
www.facebook.com/hardbeatscollective
FREE DOWNLOAD HERE (right click/save as)